Service stations, maintenance garages, driving schools, taxi firms, fuel distributors, car sales, valeting and screen care, karting, light haulage etc.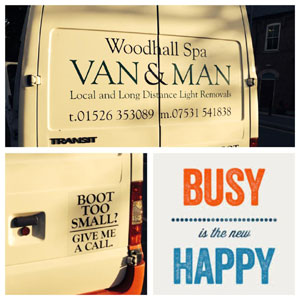 AMS Van & Man
22 St Andrews Walk
Woodhall Spa
Lincs
LN10 6PF
Tel: 01526 354139
Mob: 07500 016723
Email: simmonds32@hotmail.co.uk
A 24hr 365 days a year courier/light removal service across the whole of the uk.
Household Removals and Goods . EBay, Auctions , Ikea . single items to full loads. Boot to small give me a call..
Happy to help.
Updated 23 Dec 20
Broadway Auto Repairs
The Broadway
Woodhall Spa
Lincolnshire
LN10 6ST
Tel: 01526 352110
Servicing, Repairs, MOT Preparation, Bodywork, Car Sales
Checked 30 Oct 22
D & B Motors
Unit 1b
Tattershall Road
Woodhall Spa
Lincolnshire
LN10 6TW
Tel: 01526 353904, 07932 582551, 07766 591641
Car Repairs and MOT Preparation
Tyres, Batteries and Exhausts
email: dandbmotors@googlemail.com
Checked 28 Dec 19
David Hyland Body Repairs
The Old Mill Site
Roughton Moor
Woodhall Spa
Lincolnshire
LN10 6YQ
Opening hours:           Monday-Friday 9am-6pm
Saturday 10am-2pm
Dave Hyland Body Repairs is a family run company that has been in business for over 20 years.
Originally located in Boston we relocated to Woodhall Spa in 2004 as the business expanded and we required a larger workshop.
We provide high quality work for reasonable prices, which is shown by the majority of our work coming from word of mouth or returning customers.
Tel: 01526 351412
Email: enquiries@davehylandbodyrepairs.co.uk
website: www.davehylandbodyrepairs.co.uk/
Checked 30 Oct 22
JJs Gulf Petrol Station, Convenience Store and Garden Centre.
198 Witham Road
Woodhall Spa
Lincolnshire
LN10 6QX
Tel: 07729 690679
Pay At Pump petrol fuel station serving Woodhall Spa and surrounding Area.  365 Days a Year!. Now if your running late or starting early in the morning. We can now offer our Pay at Pump Service for Debit and Credit Cards. Along with some Fuel Cards. You can request a VAT Receipt as well should you wish. Our Shop will open Mon - Fri 7am - 8pm. Sat & Sun 8am - 7pm.  So much more than just a Fuel Station!.
Website: https://jjs-gulf-fuel-station.business.site/
Mon: 5:00 am – 12:00 am
Tue: 5:00 am – 12:00 am
Wed :5:00 am – 12:00 am
Thu: 5:00 am – 12:00 am
Fri: 5:00 am – 12:00 am
Sat: 5:00 am – 12:00 am
Sun: 5:00 am – 12:00 am
Updated 3 Jan 21
Kirkstead Bridge Service Station
Church Road
Martindales
Woodhall Spa
Lincolnshire
LN10 6XR
Tel: 01526 352295
Email: kirksteadbridge@outlook.com
Updated 29 May 22
Mid Lincs Commercials (Road Haulage)
The Old Mill
Roughton Moor
Woodhall Spa
Lincolnshire
LN10 6YQ
Tel: 01526 354435
Mid Lincs Commercials are truck, trailer and van specialists. Services provided:-
- MOT
- Fleet management
- Tacho calibration
- Servicing & Repairs
Website: www.pedersen-group.co.uk/mlc/
Checked 30 Oct 22
Neil Harness (Delivery & Collection service)
33 Grove Drive
Woodhall Spa
Lincolnshire
LN10 6RT
Tel: 07973 696393
Porter School of Motoring
20 Turnberry Drive
Woodhall Spa
Lincolnshire
LN10 6UE
Tel: 01507 526712
mobile : 07944 598763
website: www.porterschoolofmotoring.co.uk
High-quality driving lessons in Woodhall Spa, Coningsby, Tattershall, Louth, Horncastle, Martin, Mareham le Fen, Boston and surrounding areas.
Checked 23 Dec 20
Phiness Chauffeur Services
57 Bennetts Mill Close
Woodhall Spa
Available for any of your special occasions. Weddings, Airports, Cruise Liners, Corporate Events and many more...
Tel: 01526 353212 or 07889848893
email: philipbaker01@aol.com
Updated 3 Jan 21
Screencare Repairs
7 Tor-o-Moor Road
Woodhall Spa
Lincolnshire
LN10 6TF
Tel: 01526 354747
Streetwise Taxis
Over 28 years experience
Airport/Seaport Transfers. Business/Corporate Travel, A-B Service, Days/Nights Out.
Professional, Friendly and Reliable Service
Phone Steve or Liz on:
07860 519159
07376 296365
Email: streetwisetaxis2017@gmail.com
Updated 23 Dec 20
Tattershall Karting Centre

Lodge Road
Tattershall
Lincs
LN4 4JS
Tel: 01526 344566
Tucked away in beautiful woodlands in rural Lincolnshire the setting couldn't be better, boasting a massive track with customisable layouts its one of the best places to go Karting in Lincolnshire. Local camping all within a few miles so incorporate us into your holiday!
Take a look at some of our packages or simply arrive and drive. We have some popular standard packages on offer, for instance our Karting Grand Prix gives you fantastic value for money,  with a 10 minute practice session, two 10 minute races and a 10 minute final. Want the pleasure of beating all your friends? This is the package for you!
Offering Karting in Lincolnshire at a level you have never before experienced! Put your trust in Tattershall Kart Centre to deliver the best Karting fun you've ever had!
Monday - Sunday 8:30am - Dusk (Closing earlier on Sundays)
Website: http://tattershallkartingcentre.co.uk/index.html
Email: info@tattershallkartcentre.com
Updated 23 Dec 20
Taylors Private Hire (Taxi)
Stixwould near Woodhall Spa
LN10 5HP
Airports, Stations, Courier, Local.
Licensed to carry up to 4 passengers
Tel: 01526 351331
Mobile: 07944 413972
Checked 23 Dec 20
Woodhall Car Spa
Unit 2A
Tattershall Road
Woodhall Spa
LN10 6TW
Tel: 01526 354541
Mob: 07756 260555
email: wcarspa@gmail.com
We are a family run business & have been CAR valeting in Woodhall Spa now for over 6 years, our staff are trained by professionals to a high standard and take pride in their work. We are fully insured for our customers peace of mind. We have a strong belief in customer confidentiality and trust is our main key. We source good quality products / chemicals and we wouldn't use any on your vehicle if we wouldn't use it on our own vehicle.
Updated 3 Oct 20
Woodhall Private Hire
28 Alexandra Road
Woodhall Spa
Lincolnshire
LN10 6RE
Tel: 01526 351702 or  07429 529629
Email: woodhallph@gmail.com
Updated 30 Oct 22